AACORN Farm strives to provide a dynamic experience for adults with autism or related disabilities. This agricultural community supports our 'farmers' in reaching their full potential through meaningful interactions, work, and leisure activities.
Agricultural pursuits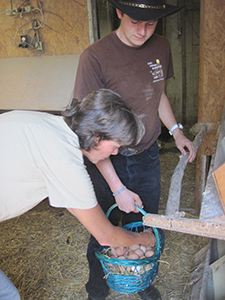 Why farming?
Individuals who live and work in an agricultural community perform daily tasks in horticulture and animal husbandry necessary to the operation of a farm. These tasks provide a routine, stable source of purposeful activity for each individual that can be understood as meaningful work with predictable outcomes. Living in a farm community also allows individuals with autism or related disabilities to develop bonds with animals, a proven therapeutic practice, and through gardening, to understand the source of some of the foods they eat. The rural atmosphere helps reduce the stress and sensory anxiety that often are experienced by people with autism or related disabilities when they are around large groups of people and loud noises common in urban settings.
Vocational program
AACORN Farm has developed a vocational and skill-building program. We support adults with autism or related disabilities who have aged out of school programs and would benefit from farm therapy. Our program is located at Lakeside Village Homestead in Kalamazoo county, Michigan.
Learn more at http://aacornfarm.org/we-do/